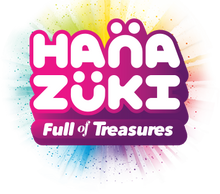 Hanazuki: Full of Treasures (logo stylized as Hanazüki: Full of Treasures), or simply Hanazuki, is an animated web series produced by Hasbro Studios and Titmouse Studios. It first aired on YouTube on January 11, 2017.
Production
"HANAZUKi is a store,
HANAZUKi is a creative studio,
HANAZUKi is a moonflower that brings colors into the dark night."
—The Hanazuki Company B.V. website, About Us
"Friends friends, be calm, this little flower is neither dangerous or scary...
in fact, she is something even I have never seen before.
I do believe, if I'm not mistaken... she is a moon flower."
—The Hanazuki Company B.V. website, About the Boutique

Established in 2005 by Hanneke Metselaar and Niko Stumpo, The Hanazuki Company was a creative studio settled in Amsterdam, Netherlands, that worked in different fields in order to bring ideas and projects to life. Hanazuki worked on different areas such as graphic design, conceptualizing, art direction, and TV commercial production, with the support of other independent creators. It also doubled as a boutique, where various self-produced and creator-owned items were sold.[1] The boutique was marketed as being "full of treasures."
In 2011, Hasbro acquired the property, and started the development of an interactive kids game targeted at children aged 7–12, scheduled to be released in Fall 2014, featuring the characters of Hanazuki. This game would be based around emotional literacy.
In 2017, the game idea was scrapped, and Hanazuki was reworked as a web series with 27 episodes. The first 18 episodes aired in batches of 9 on January 11 and March 11, which were both full moons. The remaining 9 aired weekly from May 19-July 14. On May 9, it was announced that the series had been renewed for a second season of 16 episodes.[2][3] In 2018, Hasbro started selling the series to international broadcasters, and it also made its American TV premiere on Discovery Family on December 1, 2018.[4]
Titmouse announced a month before the season's debut that they ended production of the series, leaving it on a hiatus with only eight episodes and fifteen shorts remaining in production, in order for Hasbro to find another studio to do the animation. Despite this, a third season and a feature-length film adaptation are currently in development.[5]
Staff
Writers
Dave Polsky
Kara Lee Burk
Eric Acosta
Dana Starfield
Ron Holsey
Sam Cherington
Kerri Grant
Julia Prescot
Katie Chilson
Storyboarders
Voice Actors
Synopsis
The show follows the adventures of an intergalactic humanoid Moonflower named Hanazuki and her adventures in outer space. When dark forces threaten to destroy her moon, she embarks on an adventure and discovers that her many moods are the key to a great power that could save the galaxy. Hanazuki also has the ability to change colors in different places, and has many magical friends!
Gallery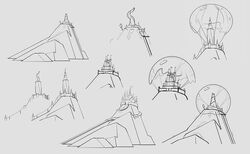 References
Trivia
Several sound effects are similar to the show Mixels, which similarly had techno soundtracks.
External Links
Community content is available under
CC-BY-SA
unless otherwise noted.