About the Wiki
This wiki is a collaborative site dedicated to Hasbro's Web Show, Hanazuki: Full of Treasures. Anyone can join and edit! If you need assistance, please contact an Administrator. So far, the wiki has 175 articles and 977 images and videos.
Latest Episode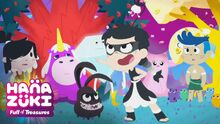 Big Bad Sickness: "After finding Red Hemka on the Dark Side desperately weakened by Big Bad exposure, Hanazuki has no idea how to save him nor how bad the condition might get. Doughy Bunington's the only one with any clue what to try, although he's distressed it will necessitate a long journey and frets it won't work anyway..."
Featured Article

Surprise, Surprise: Hanazuki plans a surprise party for Kiazuki, but Kiazuki is more interested in the mysterious and strange sound emanating from the portal.

Featured Image
About the Show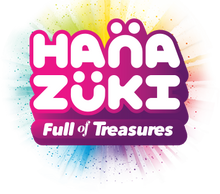 Hanazuki: Full of Treasures (logo stylized as "Han̈azüki: Full of Treasures") is a children's animated series produced by Hasbro Studios and Titmouse Studios. It follows the adventures of an intergalactic humanoid Moonflower named Hanazuki, and her adventures in outer space. When dark forces threaten to destroy her moon, she embarks on an adventure and discovers that her many moods are the key to a great power that could save the galaxy. Episodes are released via Hasbro's Youtube channel.
Latest Hasbro News
Loading RSS data...
Poll
Are you going to watch Season 2?
Winner of last poll: Who is your favorite Moonflower? Hanazuki! (65.63%)