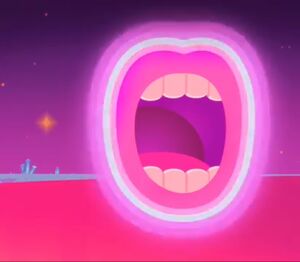 Mouth Portals are sentient portals seen in Hanazuki's Moon on Hanazuki: Full of Treasures.
Description
Mouth Portals are giant mouths wide open all the time. Their lips radiate rainbows all around as it hangs in mid-air. They are portrayed in the show as semi-sentient in episodes such as Strange Gravity and Friend or Foe where in they reacted to external stimuli.
Properties
Mouth Portals all connect with each other and serve as a medium of transportation in the show. One can jump into a mouth portal and exit through one of the many mouth portals on the moon. There is no way of predicting where someone can end up after jumping into a mouth portal, but it seems two individuals jumping in at relatively the same time would have them exiting through the same mouth portal.
Locations
In
Better Together
, Hanazuki seems to imply that there are only two available mouth portals on the Light Side of the moon, and later in the episode we see that there are several in the Dark Side of the moon, especially in Doughy Bunington's Pastry Farm.