Hanazuki: Full of Treasures is a short based on the characters of the show of the same name. and it was released in theaters on October 6, 2017, shown before My Little Pony: The Movie.
Summary
The short starts with Hanazuki and the Hemkas playing water-slide by the Rainbow Waterfall Fountain. However, when it is Yellow's turn to slide, Hanazuki is distracted by the arrival of Little Dreamer, leaving him.
As soon as Little Dreamer gave Hanazuki a Treasure, Yellow snatches it and flees, prompting Hanazuki to chase him. He enters the Dark Side of the Moon, which alarms Hanazuki She finds him playing in a large and damp cave, which they soon realize is the mouth of a Mazzadril.
They try to escape silently, but Hanazuki lets out laugh because of Yellow's ridiculous movements, waking the Mazzadril up. The monster starts chasing the two until they fall into the lava pit. While Hanazuki lands on a platform jutting from the walls of the pit, Yellow falls on a piece of crumbling rock drifting in the lava.
In a moment of courageousness, she swoops in and rescues Yellow, who expresses his fear and regrets for getting them in trouble. She comforts and reassures him that she not mad, but instead happy because he is safe. The Mazzadril is moved to tears by their exchange and carries them out of the pit. She retrieves the treasure and it glows Yellow. Later, Hanazuki and Yellow finally get to slide on the Rainbow Waterfall, later joined by the Mazzadril, much to their collective dismay.
Characters
Transcript
View the transcript here.
Gallery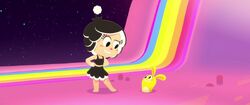 Trivia
The film is executive produced by Meghan McCathy and Chris Prynoski and co-executive produced by Colleen McAllister.
Community content is available under
CC-BY-SA
unless otherwise noted.